ENGLISH:
The sanctity of St. Joseph is far above the Patriarchs and Prophets of the Old Testament. Of the Apostles, of the Martyrs, of the Confessors, of the Virgins and even of the Angels themselves.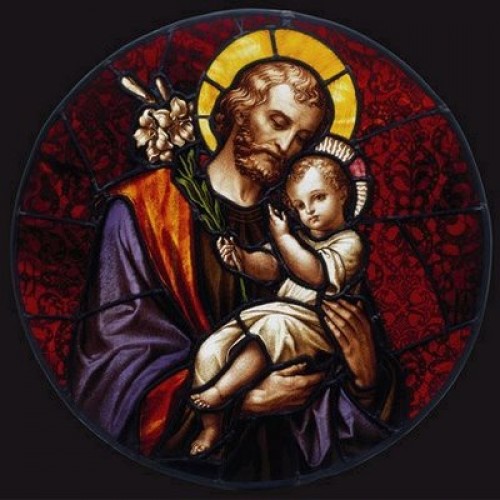 The Bible gives Saint Joseph the greatest compliment: he was a "righteous" man.
THE RIGHTEOUS MAN
When the Bible says that God "justifies" someone, it means that God, the all holy or "righteous", transforms a person and their individual actions in some way into God's Own holiness, and therefore is very "correct" to God, his love. By saying that Joseph was "just", the Bible means that he was completely open to everything God wanted to do with him.
He became a saint by opening himself totally to God.
The rest we can easily assume.
Think of the kind of love with which he courted and won Mary, and the depth of love they shared during their marriage.
It is not a contradiction of the sanctity of Joseph, who decided to divorce Mary when she was pregnant.
The important words of the Bible is that he intended to do this in "silence" because he was "a righteous man and did not want to expose her to shame" (Matthew 1:19).
The righteous man was simply, agreeable, and wholeheartedly obedient to God, by marrying Mary, by the call of Jesus, in the shepherding the precious couple to Egypt, in bringing them to Nazareth, in the indeterminate number of years of quiet faith and courage.
The Bible tells us nothing about Joseph in the years after the return to Nazareth, except for the incident of finding Jesus in the Temple (Luke 2: 41-51).
Perhaps this can be interpreted in the sense that God wants to realize that the most sacred family was like any other family.
That the circumstances of the life of the most sacred family were like that of all families, so that when the mysterious nature of Jesus began to appear, people could not believe that he came from those humble beginnings:
"Is not this the carpenter's son? Is not his mother called Mary ...? "(Matthew 13: 55a).
He was almost as indignant as "Can anything good come out of Nazareth?" (John 1: 46b).
"He was chosen by the eternal Father as the guardian of trust and protector of his greatest treasures, namely, his divine Son and Mary, Joseph's wife.
He carried out this vocation with complete fidelity until at last God called him, saying: 'Good and faithful servant, enter into the joy of your Lord' "(St. Bernardine of Siena). In the same way, Christians have Saint Joseph as the greatest saint after Mary, which is unparalleled by the efficacy of the prayers answered. This is why there are so many miracles performed by the intercession of San José. And in turn has been the subject of several appearances, not as many as those of Mary and more discreet. One of the greatest mysteries is when Joseph died.
It is almost certain that at the time of Jesus' crucifixion he would have died because he had been named and Jesus would not have had to ask John to take charge of Mary. According to the apocryphal "History of Joseph the Carpenter", the holy man reached his one hundred and eleven years when he died on July 20 (AD 18 or 19). St. Epiphanius gives him ninety years of age at the time of his death. And if we are to believe the Venerable Beda, he was buried in the Valley of Jehoshaphat.
We really do not know when St. Joseph died; it is unlikely that he has reached the age of which the "History of Joseph" and St. Epiphaniys mention; it iss most likely that died and was buried in Nazareth.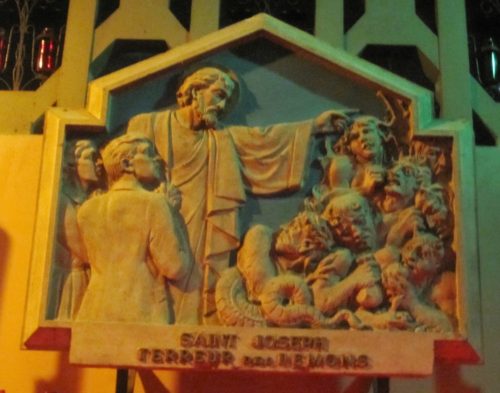 ATTRIBUTES OF ST. JOSEPH
Joseph is the patron saint of the dying because he is supposed to have died before the public life of Jesus, he died with Jesus and Mary close to him. Joseph is also the patron saint of the Universal Church, of families, parents, pregnant women, travelers, immigrants, sellers and buyers of homes, craftsmen, engineers and working people in general. In art, St. Joseph is portrayed as an old man, with gray hair and beard, often bald. Sometimes it appears fragile and a marginal figure next to Mary and Jesus, or completely in the background. Some statues of Joseph show him covered in flowers. Saint Joseph is shown with carpenter's tools, with the baby Jesus, his staff bloomed with lilies, and two turtledoves.
----------------------------------------------------------
ESPAÑOL:
La santidad de San José está muy por encima de los Patriarcas y Profetas del Antiguo Testamento.
De los Apóstoles, de los Mártires, de los Confesores, de las Vírgenes y aun de los mismos Ángeles.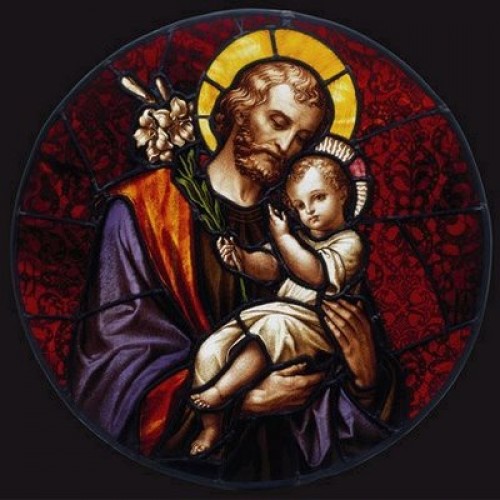 La Biblia da a San José el mayor cumplido: era un hombre "justo".
EL HOMBRE JUSTO
Cuando la Biblia habla que Dios "justifica" a alguien, significa que Dios, el todo santo o "justo", transforma a una persona y sus acciones individuales de algún modo en la propia santidad de Dios, y por lo tanto es muy "correcto" para Dios el amor de él.
Al decir que José era "justo", la Biblia quiere decir que él que estaba completamente abierto a todo lo que Dios quería hacer con él.
Se convirtió en santo abriéndose totalmente a Dios.
El resto lo podemos suponer fácilmente.
Piensa en el tipo de amor con la que cortejó y ganó a María, y la profundidad del amor que compartían durante su matrimonio.
No es una contradicción de la santidad de José, que decidió divorciarse de María cuando ella se encontraba encinta.
Las palabras importantes de la Biblia es que él pensaba hacer esto en "silencio" porque era "un hombre justo y no quería exponerla a vergüenza" (Mateo 01:19).
El hombre justo fue simplemente, agradable, y de todo corazón obediente a Dios, al casarse con María, al llamado de Jesús, en el pastoreo la pareja preciosa a Egipto, en traerlos a Nazaret, en el número indeterminado de años de fe tranquila y coraje.
La Biblia no nos dice nada de José en los años después del regreso a Nazaret, salvo el incidente de encontrar a Jesús en el Templo (Lucas 2: 41-51).
Tal vez esto pueda interpretarse en el sentido de que Dios quiere dar cuenta que la familia más sagrada era como cualquier otra familia.
Que las circunstancias de la vida de la familia más sagrada eran como la de todas las familias, de manera que cuando comenzó la naturaleza misteriosa de Jesús a aparecer, la gente no podía creer que él viniera de esos humildes comienzos:
"¿No es éste el hijo del carpintero? No se llama su madre María …?" (Mateo 13: 55a).
Era casi tan indignado como "¿Puede salir algo bueno de Nazaret?" (Juan 1: 46b).
"Él fue elegido por el Padre eterno como el guardián de confianza y protector de sus mayores tesoros, a saber, su divino Hijo y María, la esposa de José.
Llevó a cabo esta vocación con fidelidad completa hasta que al fin Dios lo llamó, diciendo: 'Siervo bueno y fiel, entra en el gozo de tu Señor'" (San Bernardino de Siena).
Del mismo modo los cristianos tienen a San José como el mayor santo luego de María, que no tiene parangón con la eficacia de las oraciones respondidas.
Es por esto que hay tantos milagros realizados por la intercesión de San José.
Y a su vez ha sido sujeto de varias apariciones, no tantas como las de María y más discretas.
Uno de los mayores misterios es cuando murió José.
Es casi seguro que al momento de la crucifixión de Jesús este ya hubiera muerto porque se le habría nombrado y Jesús no habría tenido necesidad de pedir a Juan que se hiciera cargo de María.
Según el apócrifo "Historia de José el Carpintero", el santo hombre llegó a sus ciento once años cuando murió, el 20 de julio (dC 18 o 19).
San Epifanio le da noventa años de edad en el momento de su fallecimiento.
Y si hemos de creer el Venerable Beda, fue enterrado en el Valle de Josafat.
En verdad no sabemos cuándo murió San José; es poco probable que haya alcanzado la edad de la que habla la "Historia de José" y San Epifanio; lo más probable es haya muerto y fuera enterrado en Nazaret.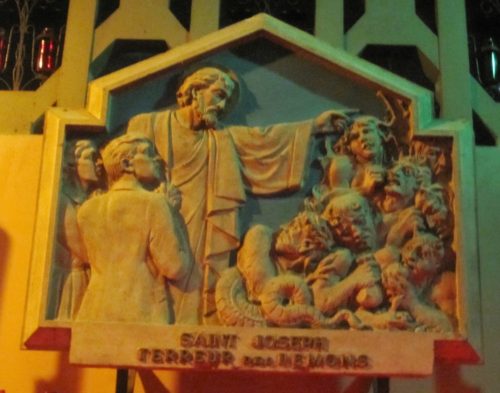 ATRIBUTOS DE SAN JOSÉ
José es el santo patrón de los moribundos porque se supone que murió antes de la vida pública de Jesús, murió con Jesús y María cerca de él.
José es también santo patrón de la Iglesia Universal, de las familias, padres, mujeres embarazadas, viajeros, inmigrantes, vendedores y compradores de casas, artesanos, ingenieros y gente trabajadora en general.
En el arte, José es retratado como un hombre mayor, con el pelo gris y barba, a menudo calvo.
A veces aparece frágil y una figura marginal junto a María y Jesús, o completamente en el fondo.
Algunas estatuas de José lo muestran cubierto de flores.
Se muestra a San José con herramientas de carpintero, con el niño Jesús, su bastón florecido de lirios, y dos tórtolas.
+++