ENGLISH:

I Found Out Why Catholicism Is The Only True Christian Religion My name is John. I live in the state of Washington in Kitsap County. For many years I have been a lukewarm born again and baptized Christian believer. I often feared the many churches that I attended in the past, but I did not know why. All the churches that I attended felt compelled to leave them at some point. It was as if my heart did not feel that they were right in some mysterious way. I believe in God, the Son (our Savior Jesus Christ) and the Holy Ghost. I was listening to Coast 2 Coast on AM 570 for about a week when I found the program introducing Brother Michael Dimond late at night. He was really inspired by Brother Michael's strict devotion to the Catholic religion, despite all that he had talked about his current state. I was forced to listen more when he said that the Catholic religion was the only true Christian religion. After I finished listening to Brother Michael in Coast 2 Coast, I went to the [website] Most Holy Family Monastery. My eyes were opened even more on the Catholic religion in its current state. It's been a couple of weeks and I've been going back to your website regularly. I downloaded all your movies and watched them with great interest. I was inspired because I believe that God was communicating with me to come down from this fence in which I have been sitting and follow the narrow path that leads to Heaven.
Little by little, and website after website, I discovered why Catholicism is the only true Christian religion (Jesus ordered Peter to start His Church) and why Catholics were praying to Mary Holy Mother of Jesus (The Rosary given to St. Dominic and Blessed Alanus). When I read about Padre Pio, I began to worry about my past sins and those that were not forgiven. Then, in understanding Purgatory through the readings of the catechism, I find that I want to do penance for my past sins and seek confession. I am truly and completely inspired to turn away from my sins and seek to be Catholic. However, with Vatican II and the situation of the New Mass, am I asking where can I go to be a Catholic and take classes in the Rite of Christians? If you know any in my area, please let me know. I will search on my own, but having your guide here would be very valuable to my soul. Thanks for your time and I hope to hear from you. May the Lord God be with you,

John

R:

John, you are definitely responding to the powerful graces that God is giving you to embrace the true faith. We recommend that you pray the Rosary every day and, if you do not know how, we have a How to Pray The Rosary guide that can help you. Attached is a basic summary of the Catholic Catechism. We hope to hear from you soon.

Thank you all for sending me the Catechism in your e-mail, which is acceptable as being truly the Roman Catholic Catechism. Also, I'll go back to your website and check your information again for the converts. The other day I read something about him. And, without a doubt, I will buy the DVD they recommended, as well as any other DVDs and books they have recommended on their website, as soon as I can! Although I have not yet joined the Roman Catholic Church, I have tried to inform a Catholic friend about this 'sedevacantism' and the heresy of Vatican II, trying to help her realize that the last royal Pope was Pope Pius XII - but, she's misinterpreting me, and she thinks that, somehow, now, I'm just using this as an excuse to not finally convert !! I gave her the address of her website, and she will read what they have posted there and, I hope, watch her tremendously informative videos [I have seen them, with fixed eyes on the monitor: they are so fabulous!] - then, to Through all your information, the Lord will finally be able to help you realize the truth of what you have said about this group of terribly heretical people, who adhere to the blasphemies in the teachings of Vatican II! Sincerely, Christine Chiomento Deepwater, New Jersey R:

It's great to hear about his lively interest. We hope you go ahead and convert, what God definitely wants you to do. We will pray for you.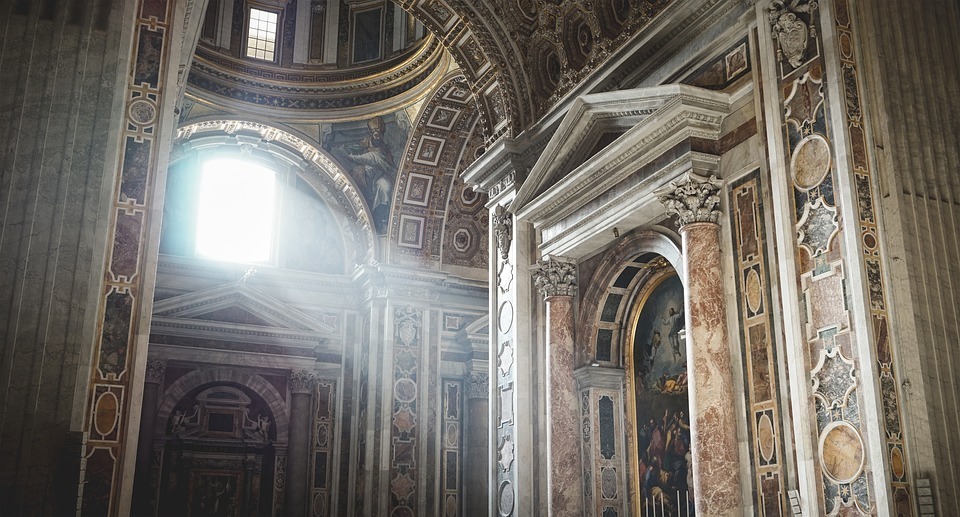 -----------------------------------------------------------------------------------------
ESPAÑOL:
Encontré por qué el Catolicismo es la única verdadera Religión Cristiana
Mi nombre es John. Vivo en el estado de Washington en el condado de Kitsap. Desde hace muchos años he sido un creyente cristiano tibio, nacido de nuevo y bautizado. A menudo temía a las muchas iglesias a las que asistí en el pasado, pero no sabía por qué. Todas las iglesias a las que asistí me sentí obligado a dejarlas en algún momento. Era como si mi corazón no sintiera que tuviesen razón de alguna manera misteriosa. Creo en Dios, el Hijo (nuestro Salvador Jesucristo) y el Espíritu Santo. Estuve escuchando Coast 2 Coast en AM 570 durante aproximadamente una semana cuando me encontré el programa presentando al Hermano Miguel Dimond a altas horas de la noche. Estaba realmente inspirado por la estricta devoción del Hermano Miguel a la religión católica, a pesar de todo lo que él había hablado sobre su estado actual. Me vi obligado a escuchar más cuando dijo que la religión católica era la única verdadera religión cristiana. Después de que terminé de escuchar al Hermano Miguel en Coast 2 Coast, fui al [sitio web] Monasterio de la Sagrada Familia. Mis ojos se abrieron más sobre la religión católica en su estado actual. Han pasado un par de semanas y he estado regresando a su sitio web regularmente. Descargué todas sus películas y las vi con gran interés. Me inspiré porque creo que Dios se estaba comunicando conmigo para bajar de esta valla en la que he estado sentado y seguir el camino angosto que lleva al Cielo.

Poco a poco, y sitio web tras sitio web, descubrí por qué el catolicismo es la única verdadera religión cristiana (Jesús le ordeno a Pedro que inicie su iglesia) y por qué los católicos rezaban a María Santa Madre de Jesús (El Rosario dado a Santo Domingo y el Beato Alano). Al leer sobre el Padre Pío, comencé a preocuparme por mis pecados pasados ​​y por los que no fueron perdonados. Luego, al comprender el Purgatorio a través de las lecturas del catecismo, encuentro que quiero hacer penitencia por mis pecados pasados ​​y buscar la confesión. Estoy verdadera y completamente inspirado para apartarme de mis pecados y buscar ser católico. Sin embargo, con el Vaticano II y la situación de la Nueva Misa, ¿estoy preguntando dónde puedo ir para ser católico y tomar las clases del Rito de los cristianos? Si conoce alguno en mi área, por favor hágamelo saber. Voy a buscar por mi cuenta, pero tener su guía aquí sería muy valiosa para mi alma. Gracias por su tiempo y espero saber de usted.
Que el Señor Dios esté con usted,
John
R : John, usted definitivamente está respondiendo a las gracias poderosas que Dios le está dando para abrazar la verdadera fe. Le recomendamos que rece el Rosario todos los días y, si no sabe cómo, tenemos una guía de Cómo Rezar El Rosario que puede ayudarlo. Adjunto hay un resumen básico del Catecismo Católico. Esperamos saber pronto de usted.

Gracias a todos por enviarme el Catecismo dentro de su correo electrónico, que es aceptable como siendo verdaderamente el Catecismo Católico Romano. Además, volveré a su sitio web y volveré a verificar su información para los conversos-- El otro día ya leí algo de él. Y, sin dudas, compraré el DVD que me recomendaron, así como cualquier otro DVD y libros que hayan recomendado en su sitio web, ¡tan pronto como pueda!
Aunque aún no me he unido a la Iglesia Católica Romana, he intentado informarle a una amiga católica sobre esto del 'sedevacantismo' y la herejía del Vaticano II, tratando de ayudarla a darse cuenta de que el último Papa real era el Papa Pío XII - pero, ella me está malinterpretando, y piensa que, de alguna manera, ahora, solo estoy usando esto como una excusa para no convertirme finalmente!! Le di la dirección de su sitio web, y ella leerá lo que han publicado allí y, espero, mirará sus videos tremendamente informativos [Los he visto, con los ojos fijos en el monitor: son ¡Tan fabulosos!] --entonces, a través de toda su información, el Señor finalmente podrá ayudarla a darse cuenta de la verdad de lo que han dicho sobre este grupo de personas terriblemente heréticas, que se adhieren a las blasfemias en las enseñanzas del Vaticano II!
Atentamente,
Christine Chiomento
Deepwater, Nueva Jersey

R:
Es genial escuchar acerca de su vivo interés . Esperamos que siga adelante y se convierta, lo que Dios definitivamente quiere que haga. Oraremos por usted.
+++