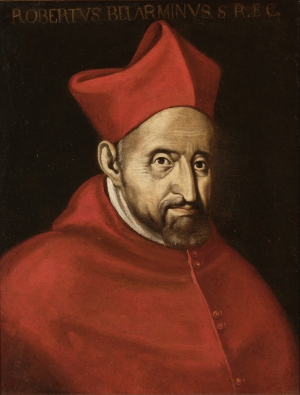 St. Robert Bellarmine, De Romano Pontifice, Book II, Chap. 30: "… for men are not bound, or able to read hearts; but when they see that someone is a heretic by his external works, they judge him to be a heretic pure and simple, and condemn him as a heretic."
St. Robert Bellarmine (1610), Doctor of the Church: "A pope who is a manifest heretic automatically (per se) ceases to be pope and head, just as he ceases automatically to be a Christian and a member of the Church. Wherefore, he can be judged and punished by the Church. This is the teaching of all the ancient Fathers who teach that.
St. Robert Bellarmine: "This principal is most certain. The non-Christian cannot in any way be Pope, as Cajetan himself admits. The reason for this is that he cannot be head of what he is not a member, now he who is not a Christian is not a member of the Church, and a manifest heretic is not a Christian, as is clearly taught by St. Cyprian, St. Athanasius, St. Augustine, St. Jerome and others; therefore the manifest heretic cannot be Pope.
St. Alphonsus (+1755): "(St.) Robert Bellarmine relates that having gone to assist a certain dying person, and having exhorted him to make an act of contrition, the man replied that he did not know what contrition was. Bellarmine endeavored to explain it to him; but the sick man said: 'Father, I do not understand you; I am incapable of these things.' And thus he died, 'leaving clear signs of his damnation,' as is recorded in the writings of Bellarmine. The just punishment of the sinner, says St. Augustine, will be, that having forgotten God in his lifetime, he shall forget himself in death." (Preparation for Death, p. 42.)
St. Robert Bellarmine
from the Roman Breviary

St. Robert, a native of Montepulciano and of the noble family of Bellarmine, had for his mother the most pious Cynthia Cervini, sister of Pope Marcellus II. From the first he was conspicuous for exemplary piety and most chaste manners, earnestly desiring this one thing, to please God alone and to win souls to Christ. He attended the college of the Society of Jesus in his native town where he was highly commended for his intelligence and modesty. At the age of eighteen he entered the same Society at Rome, and was a model of all religious virtues. Having passed through the course of philosophy at the Roman College, he was sent first to Florence, then to Monreale, later to Padua to teach sacred theology, and afterwards to Louvain where, not yet a priest, he ably discharged the office of preacher. After ordination at Louvain, he taught theology with such success that he brought back many heretics to the unity of the Church, and was regarded throughout Europe as a most brilliant theologian; and St. Charles, bishop of Milan, and others keenly sought after him.

Recalled to Rome at the wish of Pope Gregory XIII, he taught the science of controversial theology at the Roman College, and there, as spiritual director he guided the angelic youth Aloysius in the paths of holiness. He governed the Roman College and then the Neapolitan province of the Society of Jesus, in accordance with the spirit of St. Ignatius. Again summoned to Rome, he was employed by Clement VIII in the most important affairs of the Church, with the greatest advantage to the Christian state; then against his will and in spite of opposition, he was admitted among the number of the cardinals, because, as the Pontiff publicly declared, he did not have his equal among theologians in the Church of God at the time. He was consecrated bishop by the same Pope, and administered the archdiocese of Capua in a most saintly manner for three years: having resigned this office, he lived in Rome until his death, as a most impartial and trusty couseller to the Supreme Pontiff. He wrote much, and in an admirable manner. His principal merit lies in his complete victory in the struggle against the new errors, during which he distinguished himself as a strenuous and outstanding vindicator of Catholic tradition and the rights of the Roman See. He gained this victory by following St. Thomas as his guide and teacher, by a prudent consideration of the needs of his times, by his irrefragable teaching, and by a most abundant wealth of testimony well-chosen from the sacred writings and from the very rich fountain of the Fathers of the Church. He is eminently noted for very numerous short works, for fostering piety, and especially for that golden Catechism, winch he never failed to explain to the young and ignorant both at Capua and a Rome, although preoccupied with other very important affairs. A contemporary cardinal declared that Robert was sent by God for the instruction of Catholics, for the guidance of the good, and for the confusion of heretics; St. Francis de Sales regarded him as a fountain of learning; the Supreme Pontiff Benedict XIV called him the hammer of heretics; and Benedict XV proclaimed him the model of promoters and defenders of the Catholic religion.

He was most zealous in the religious life and he maintained that manner of life after having been chosen as one of the empurpled cardinals. He did not want any wealth beyond what was necessary; he was satisfied with a moderate household, and scanty fare and clothing. He did not strive to enrich his relatives, and he could scarcely be induced to relieve their poverty even occasionally. He had the lowest opinion of himself, and was of wonderful simplicity of soul. He had an extraordinary love for the Mother of God; he spent many hours daily in prayer. He ate very sparingly, and fasted three times a week. Uniformly austere with himself, he burned with charity towards his neighbor, and was often called the father of the poor. He earnestly strove that he might not stain his baptismal innocence by even the slightest fault. Almost eighty years old, he fell into his last illness at St. Andrew's on the Quirinal hill, and in it he showed his usual radiant virtue. Pope Gregory XV and many cardinals visited him on his deathbed, lamenting the loss of such a great pillar of the Church. He fell sleep in the Lord in the year 1621, on the day of the sacred Stigmata of St. Francis, the memory of which he had been instrumental in having celebrated everywhere. The whole city mourned his death, unanimously proclaiming him a Saint. The Supreme Pontiff Pius XI inscribed his name, first, in the number of the Blessed, and then in that of the Saints, and shortly afterwards, by a decree of the Sacred Congregation of Rites, he declared him a Doctor of the universal Church. His body is honored with pious veneration at Rome in the church of St. Ignatius, near the tomb of St. Aloysius, as he himself had desired.


Sermon from St. Robert Bellarmine
On the uprightness of the Doctors of the Church
Just as in God, whom we venerate as one in the Trinity and three in the Unity, there are three things in particular which are specially clear: power, wisdom, and goodness; so also God, beloved hearers, that he might make His special friends and children, our fathers and teachers, very like to Himself and to be esteemed and admired by all nations, wished them to be in the highest degree powerful, wise, excellent, and holy. First, He furnished them with that power, by which they might do many evidently wonderful and extraordinary things, out of the usual course and order of nature, in regard to the elements, trees, brute beasts, and even to mankind. Then, he gave them such wisdom, that they saw not only the past and present, but they even foresaw the future long before, and predicted it. Finally, he enlarged their hearts with very great and burning charity, enabling them not only to enter whole-heartedly on their labors, but also to influence those whom they were about to convert, as well by their example and holy life, as by their preaching and miracles.

And so, the whole world knew how pious, how just, how religious were the preachers of our law, both those who first brought to us the faith and the Gospel, and those whom God thereafter stirred up in every age to confirm or propagate that same faith. And first, consider the Apostles. What could be better or more sublime than the Apostles' way of life? Next, consider those holy men whom we call Fathers and Doctors, those really shining lights which God ordained should shine in the firmament of the Church, that all the darkness of heresy might be dispersed, such as Irenseus, Cyprian, Hilary, Athanasius, Basil, the two Gregories, Ambrose, Jerome, Augustine, Chrysostom, and Cyril. Do not their lives and conduct shine forth in the records, which they have left us, as in a special kind of mirror? For out of the fulness of the heart the mouth speaks.

Consider, I ask you, humility, together with the most profound learning, which appears in the books of the holy fathers. What moderation! Nothing offensive there, nothing unseemly, no cunning, nothing assuming, nothing pompous. How the manifold working of the Holy Spirit, who dwelt in their hearts, reveals itself in their pages! Who can read Cyprian attentively without immediately longing for martyrdom? Who can assiduously turn over the pages of Augustine without learning the most profound humility? Who can open Jerome frequently without beginning to love virginity and fasting? The writings of the saints breathe religion, chastity, integrity, and charity. Such then are our bishops and pastors (to use the words of the heavenly Augustine), learned men, eminent, holy, intelligent defenders of the truth, who have taken in the Catholic faith as their milk, and have consumed it as food: and this milk and food they have ministered to great and small. Since the Apostles, holy Church has flourished by such planters, waterers, builders, shepherds, and nurses.
ESPAÑOL:
Citas de San Roberto Belarmino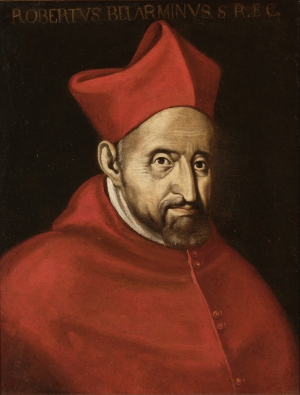 San Roberto Belarmino, De Romano Pontifice, Libro II, Cap. 30: "... porque los hombres no están atados, o pueden leer corazones, pero cuando ven que alguien es un hereje por sus obras externas, lo juzgan como un hereje puro y simple, y lo condenan como hereje".
San Roberto Belarmino (1610), Doctor de la Iglesia: "Un Papa que es un hereje manifiesto automáticamente (per se) deja de ser papa y cabeza, así como deja automáticamente de ser cristiano y miembro de la Iglesia. , él puede ser juzgado y castigado por la Iglesia. Esta es la enseñanza de todos los Padres antiguos que enseñan eso.
San Roberto Belarmino: "Este principio es muy cierto. Los no cristianos no pueden ser papa en modo alguno, como lo admite el mismo Cayetano. La razón de esto es que él no puede ser el jefe de lo que no es miembro, ahora el que no es cristiano no es miembro de la Iglesia, y un hereje manifiesto no es cristiano, como lo enseñan claramente San Cipriano, San Atanasio, San Agustín, San Jerónimo y otros, por lo tanto, el hereje manifiesto no puede ser el Papa.
San Alfonso (+1755): "(San) Roberto Bellarmino relata que, habiendo ido a ayudar a cierta persona moribunda y habiéndole exhortado a hacer un acto de contrición, el hombre respondió que no sabía qué era la contrición. Belarmino se esforzó por explicárselo, pero el enfermo dijo: "Padre, no te entiendo, soy incapaz de estas cosas". Y así murió, "dejando claras señales de su condenación", como está registrado en los escritos de Belarmino. El castigo justo del pecador, dice San Agustín, será que, habiendo olvidado a Dios en vida, se olvidará de sí mismo en la muerte." (Preparación para la muerte, p. 42)
San Roberto Belarmino
De su Breviario Romano
San Roberto, oriundo de Montepulciano y de la noble familia de Belarmino, tenía para su madre a la más piadosa Cynthia Cervini, hermana del Papa Marcelo II. Desde el principio fue conspicuo para la piedad ejemplar y la mayoría de los modales castos, deseando fervientemente esta única cosa, agradar a Dios solo y ganar almas para Cristo. Asistió al colegio de la Compañía de Jesús en su ciudad natal, donde fue muy elogiado por su inteligencia y modestia. A la edad de dieciocho años ingresó en la misma Sociedad en Roma, y ​​fue un modelo de todas las virtudes religiosas. Habiendo pasado por el curso de filosofía en el Colegio Romano, fue enviado primero a Florencia, luego a Monreale, luego a Padua para enseñar teología sagrada, y luego a Lovaina, donde, aún no siendo sacerdote, ejerció hábilmente el cargo de predicador. Después de la ordenación en Lovaina, enseñó teología con tanto éxito que trajo muchos herejes a la unidad de la Iglesia, y fue considerado en toda Europa como el teólogo más brillante; y San Carlos, obispo de Milán, y otros lo buscaron intensamente.
Retornado a Roma por deseo del Papa Gregorio XIII, enseñó la ciencia de la teología controvertida en el Colegio Romano, y allí, como director espiritual, guió a la juventud angelical Aloysius por los senderos de la santidad. Él gobernó el Colegio Romano y luego la provincia napolitana de la Compañía de Jesús, de acuerdo con el espíritu de San Ignacio. Nuevamente convocado a Roma, fue empleado por Clemente VIII en los asuntos más importantes de la Iglesia, con la mayor ventaja para el estado cristiano; luego contra su voluntad y a pesar de la oposición, fue admitido entre el número de los cardenales, porque, como el Pontífice declaró públicamente, no tenía su igual entre los teólogos en la Iglesia de Dios en ese momento. Fue consagrado obispo por el mismo Papa, y administró la archidiócesis de Capua de la manera más santa durante tres años: después de haber renunciado a este cargo, vivió en Roma hasta su muerte, como el más imparcial y fiel coleccionista del Sumo Pontífice. Escribió mucho, y de una manera admirable. Su principal mérito radica en su completa victoria en la lucha contra los nuevos errores, durante los cuales se distinguió como un enérgico y destacado vindicador de la tradición católica y los derechos de la Sede Romana. Ganó esta victoria al seguir a Santo Tomás como su guía y maestro, por una prudente consideración de las necesidades de su tiempo, por su enseñanza irrefragable, y por una riqueza abundante de testimonios bien elegidos de los escritos sagrados y de la misma rica fuente de los Padres de la Iglesia. Él es eminentemente conocido por sus numerosas obras breves, por fomentar la piedad, y especialmente por el catecismo dorado, el que nunca dejó de explicar a los jóvenes e ignorantes tanto en Capua como en Roma, aunque preocupado por otros asuntos muy importantes. Un cardenal contemporáneo declaró que Robert fue enviado por Dios para la instrucción de los católicos, para la guía de los buenos y para la confusión de los herejes; San Francisco de Sales lo consideró como una fuente de aprendizaje; el Sumo Pontífice Benedicto XIV lo llamó el martillo de los herejes; y Benedicto XV lo proclamó el modelo de promotores y defensores de la religión católica.
Era muy celoso en la vida religiosa y mantuvo esa forma de vida después de haber sido elegido como uno de los purpurados cardenales. Él no quería ninguna riqueza más allá de lo necesario; estaba satisfecho con un hogar moderado, y comida y ropa escasas. No se esforzó por enriquecer a sus parientes, y apenas podía ser inducido a aliviar su pobreza, incluso ocasionalmente. Tenía la opinión más baja de sí mismo, y era de maravillosa simplicidad de alma. Tenía un amor extraordinario por la Madre de Dios; pasó muchas horas diariamente en oración. Comió muy poco y ayunó tres veces a la semana. Uniformemente austero consigo mismo, se quemó con caridad hacia su prójimo, y con frecuencia se lo llamaba el padre de los pobres. Se esforzó seriamente en no manchar su inocencia bautismal por la más mínima falta. Casi ochenta años, cayó en su última enfermedad en St. Andrew's en la colina Quirinal, y en ella mostró su virtud radiante habitual. El Papa Gregorio XV y muchos cardenales lo visitaron en su lecho de muerte, lamentando la pérdida de un gran pilar de la Iglesia. Se quedó dormido en el Señor en el año 1621, en el día de los Estigmas sagrados de San Francisco, cuyo recuerdo había sido fundamental en haber celebrado en todas partes. Toda la ciudad lloró su muerte, proclamándolo un santo por unanimidad. El Sumo Pontífice Pío XI inscribió su nombre, primero, en el número de los Bienaventurados, y luego en el de los Santos, y poco después, por un decreto de la Sagrada Congregación de los Ritos, lo declaró Doctor de la Iglesia universal. Su cuerpo es honrado con una veneración piadosa en Roma en la iglesia de San Ignacio, cerca de la tumba de San Aloysius, como él mismo había deseado.
Sermón de San Roberto Belarmino Sobre la rectitud de los Doctores de la Iglesia
Al igual que en Dios, a quien veneramos como uno en la Trinidad y tres en la Unidad, hay tres cosas en particular que son especialmente claras: poder, sabiduría y bondad; también Dios, amados oyentes, para hacer de Sus amigos especiales y de sus hijos, nuestros padres y maestros, muy semejantes a Él y para ser estimados y admirados por todas las naciones, deseó que fueran en el más alto grado poderosos, sabios, excelentes, y santo Primero, les proporcionó ese poder, mediante el cual podrían hacer muchas cosas evidentemente maravillosas y extraordinarias, fuera del curso y el orden de la naturaleza habituales, con respecto a los elementos, árboles, bestias brutas e incluso a la humanidad. Entonces, les dio tal sabiduría, que vieron no solo el pasado y el presente, sino que incluso previeron el futuro mucho antes y lo predijeron. Finalmente, agrandó sus corazones con una gran caridad ardiente, permitiéndoles no solo entrar de todo corazón en sus trabajos, sino también influenciar a aquellos a quienes estaban a punto de convertir, también por su ejemplo y vida santa, como por su predicación y milagros.
Y así, todo el mundo sabía cuán piadosos, cuán justos, cuán religiosos eran los predicadores de nuestra ley, tanto los que primero nos trajeron la fe y el Evangelio, como aquellos a quienes Dios despertó en cada época para confirmar o propagar esa misma fe Y primero, considera a los Apóstoles. ¿Qué podría ser mejor o más sublime que el modo de vida de los Apóstoles? Luego, considere a esos hombres santos a quienes llamamos Padres y Doctores, esas luces realmente brillantes que Dios ordenó que deberían brillar en el firmamento de la Iglesia, que toda la oscuridad de la herejía podría dispersarse, como Irenseo, Cipriano, Hilario Atanasio, Basil , los dos Gregorios, Ambrosio, Jerónimo, Agustín, Crisóstomo y Cirilio. ¿No brillan sus vidas y su conducta en los registros que nos han dejado, como en un tipo especial de espejo? Porque de la plenitud del corazón habla la boca.
Considera, te lo pido, humildad, junto con el aprendizaje más profundo, que aparece en los libros de los santos padres. ¡Qué moderación! Nada ofensivo allí, nada impropio, sin astucia, nada asumiendo, nada pomposo. ¡Cómo se manifiesta en sus páginas el trabajo múltiple del Espíritu Santo, que moraba en sus corazones! ¿Quién puede leer a Cipriano con atención sin anhelar inmediatamente el martirio? ¿Quién puede dar vuelta asiduamente las páginas de Agustín sin aprender la humildad más profunda? ¿Quién puede abrir a Jerome con frecuencia sin comenzar a amar la virginidad y el ayuno? Las escrituras de los santos respiran religión, castidad, integridad y caridad. Así son nuestros obispos y pastores (para usar las palabras del Agustín celestial), hombres eruditos, eminentes, santos, inteligentes defensores de la verdad, que han tomado en la fe católica como su leche, y la han consumido como alimento: y esta leche y comida han ministrado a grandes y pequeños. Desde los Apóstoles, la santa Iglesia ha florecido gracias a tales plantadores, bebederos, constructores, pastores y enfermeras.