St. Jerome, an ornament of the priesthood, so celebrated by his eminent virtue, his rare wisdom, his profound erudition, oracle of the Christian world, one of the greatest and most brilliant luminaries of the Church, was St. confines of Dalmatia and Pannonia. He was born the year 332, and his father by name Eusebius, jealous Christian and man of convenience put the utmost care in giving his son a Christian education. Having observed in this child a certain fund of capacity and some brilliant of wit, not very regular in others of that age, he resolved not to spare any diligence to cultivate him. After making him take a slight tincture of tongues in his country, I send him to Rome under the discipline of Donato, a celebrated grammarian, with whose teaching the boy Jerome made astonishing progress in human letters. He passed later on to other teachers, in whose school he learned the fine letters and the profane sciences to a degree far superior than could be expected of a student. Because of his particular inclination to rhetoric, and because of his delicate taste in it, he became one of the most eloquent orators of his time; and by his rare facility in tongues was made to admire and be had by one of the wisest men of his century. Thus the violent love of books, as the pious affections of religion that inspired him from childhood, were the brake of his fiery passions, which from the very childhood were very alive. Jerome received Baptism, being of mature age, and from that blessed day he began a truly Christian life. Desirous of preserving his innocence, he deviated from everything in which he might be in danger, and it seemed to him that condoms against contagion were abstinence, mortification, and prayer. He spent all his time in study and in spiritual exercises. Not content with reading and observing, he also dedicated himself to copy books, which formed a library for his use. Every day he went with some of his companions of the most virtuous to visit the catacombs of Rome or the caves where the holy Martyrs were buried around the city.
In order to perfect himself in the sciences and in virtue he undertook the work of traveling. He took the path of Gaulas, where he met and treated many wise men. He stopped particularly at Trier, always accompanied by Bonoso, who had grown up with him and never left his side. When he returned from the Gaulas, he went to Aquileia, where he made a mansion some time enjoying the treatment of Bishop Valeriano, one of the most holy and wisest prelates of that century, whose greatest pleasure was to host and arrest in his house, as many wise and virtuous men as possible. In the same city he became acquainted with the presbyter Chromatius, who later succeeded Valerianus, with Jovino, Eusebius, Nicetas, Chrysogonus, Heliodorus, and Rufinus, who, in time, was his greatest opponent.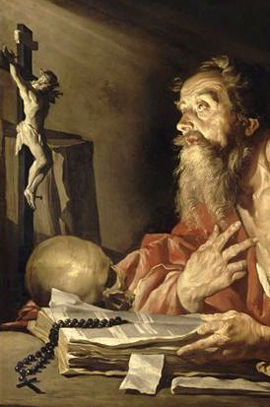 As he had renounced all that smelled of flesh and blood for the sake of Jesus Christ, he no longer thought of his country, but rather took the part of retiring to the East, to the most fertile field of great men in the world at that time. Having abandoned all things, he set out on his journey with the presbyter Evagrius, Innocent, and Heliodorus, with a servant for all four who carried the burden of his books. Thrace, Pontus, Bithynia, Galatia, Cappadocia and Cilicia ran, stopping for some days in Tarsus, where St. Paul was born, to learn the idiocy of the Apostle's mother tongue. From there he passed to Antioch of Syria, where he engaged in communication with the famous Apolinario, whose heresy had not yet been discovered. But each day our Saint grew in love with solitude, retired to a desert of the province of Calcida with his beloved Heliodoro, Hilas and Innocent. The consolation that St. Jerome experienced in that sweet retreat was soon troubled by the death of his two companions Heliodorus and Hilas, and by having turned to Italy Innocent. The Lord also strengthened his virtue with other tests. He afflicted him with various diseases; but what most distressed him were the violent temptations of impurity with which his flesh tormented him when his pains gave him respite, continually representing him with the most vivid imagination in the objects he had seen in Rome, and arousing him an involuntary but vehement desire for the comforts of life that he had abandoned by a generous sacrifice.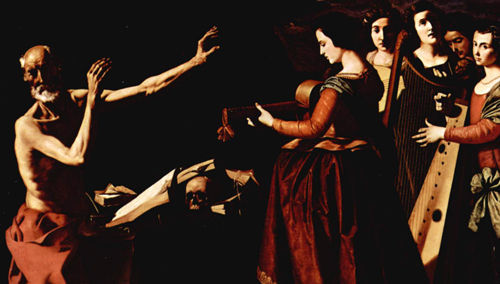 St. Jerome and the Temptations
Seeing that they were not enough to rid him of these annoying temptations, his fasts, and other bodily penances, he undertook a new study far more painful than the others. He dedicated himself to the Hebrew language, taking as his teacher a converted Jew. To a man who only found pleasure in reading Ciceron's works of the best Latin authors, it was clear that it would have been very difficult for him to study alphabets again, exercising himself in gruff, rugged, rough and difficult aspirations. More than once he wanted to leave everything, cowed with work, and little contributed the violence that was made to a disease that suffered so serious, that reduced to the last end of life. He had a dream at that time when it seemed to him that having been brought before the court of the sovereign Judge, he was rebuked and punished because he was more Ciceronian than Christian. He understood that this dream was the will of God to become an expert in the understanding of the Eastern languages, as absolutely necessary for the intelligence of Sacred Scripture, Divine Providence was destined to leave us a version of all of it, which is today use the Church.
For four years St. Jerome remained in that desert, continually macerating his flesh with fasts and rigorous penances. But his patience was not so much exercised in that solitude as the persecution of schismatic monks, who, seeing him inviolably attached to the Church of Rome, used every means they could to disturb him. They did not stop until they put him in precision to leave his beloved desert. He went to Jerusalem, and lived some time in the contour campaign, walking from one to another solitude. But where he particularly stopped, it was in Bethlehem, whose place was so attractive to him, that he determined to fix his mansion there. Nevertheless it was necessary to return to Antioch, where Bishop Paulinus, who had well-known the rare merit of St. Jerome and his eminent virtue, could reduce him to be allowed to ordain priest, although on the condition that he was not he was to assert a particular church; that he was not to change the kind of monastic life he had embraced, and that he should be allowed to leave it at his own discretion, to live or not to live in solitude. Under these three conditions he gave his consent. The priesthood renewed its fervor, and the new dignity gave greater splendor to its virtue. It was not easy to imagine a priest wiser, more holy, more mortified, or more humble.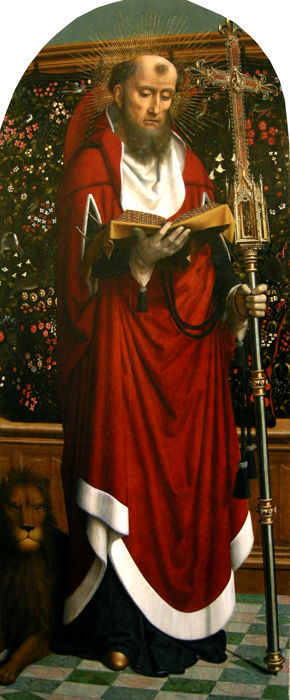 He was forty-five when he was ordained a priest. The love of solitude took him back to Bethlehem, where he spent three years, applied only to the contemplation and study of Sacred Scripture. Moved from the great reputation of St. Gregory of Nazianzus, who ruled at that time the church of Constantinople, he made a trip to that capital of the East. He remained for some time with that holy Doctor, whom he always treated and revered as his master. It is certain that during his residence in that imperial court he composed the little treatise on the Vision of the Seraphim spoken of by Isaiah, and translated into Latin the chronicle of Eusebius. After St. Gregory withdrew from Constantinople by renouncing that bishopric in favor of peace, St. Jerome returned to Palestine; but offering themselves to Pauline, bishop of Antioch, and to St. Epiphanius to make a trip to Rome, they absolutely wanted our Saint to accompany them. After he reached that head of the world, Pope St. Damasus, who knew his merit, stopped him near him to help him respond to the inquiries of the churches. In all of them their talents became notorious. He was well known in that capital of the universe for the penetration and delicacy of his wit, for his profound erudition, for his rare wisdom in matters of religion, for his ability in the intelligence of the Holy Scriptures and of all tongues; but when the sanctity of his customs, his modesty, his humility, that kind of austere life, his interior recollection, and that tender devotion which, in spite of his care, was shown on the altar by the copious tears which he continually shed in the Holy Sacrifice, all of them in competition, endeavored to do with him the greatest demonstrations of esteem, veneration, and respect. Each asked to take him to his house, and as perhaps never reigned more than then the virtue among the Roman ladies, few had no confidence in him. But the saint was persuaded by the delicate direction of women, and not ignoring the care that a director must take to avoid illusions, all ties and all dangers, a stern law was imposed that he never looked at the face to any woman, not to visit them, and to excuse with them all frequent conversation, even if it were of spiritual and holy things. He heard them with strange modesty and composure, answered them in a few words, and never in matters that were not of conscience and pertaining to salvation. But neither his scrupulous modesty, nor his continual fear that the fire of temptation might reignite in his bosom, could spare him from taking charge of the leadership of the most virtuous ladies by order of Pope Damasus. Among those ruled by St. Jerome, and taking advantage of more of their doctrine and advice, the most prominent were Santa Marcela, St. Asela virgin, Albina, mother of St. Marcela, St. Leta widow, saints Fabiola, Marcelina , Felicitas and some others, whose virtues and merits canonized the holy Church. Nevertheless, the most celebrated spiritual daughters of his were Santa Paula, and his two daughters, Santa Eustochius and St. Blesila, lady of rare merit and extraordinary virtue, in whose death St. Jerome wrote a beautiful epistle to Santa Paula, his mother and Santa Eustochius his sister to comfort them in that loss.
Meanwhile, taking advantage of the Pope Damasus of the mansion that St. Jerome made in Rome, made him continue in his works on the Sacred Scripture. They were received from the public with so much applause, that in all the world there was talk of St. Jerome with admiration. But in the midst of this general applause began to gradually discover a certain kind of emulation, which had a beginning in his celestial wisdom, and the very sanctity of his life kindled it more. The purity of their customs seemed to many ecclesiastics to be a mute censure of the disorder of theirs; and when Pope Damasus died, they were rioted in slander and slander against our Saint. It was hypocrisy, his composure, his austerity, and his virtue; he made a mockery of his address by giving it some evil interpretation, and put himself in dispute until the sanctity of his doctrine and the purity of his faith. Make it very easy for St. Jerome, armed with his style, and much more of his innocence, to confuse his enemies and to dispel slander; but as he only sighed for his beloved retreat, he took the liberty of yielding the field to envy, and leaving Rome in 385, he went to the port with his younger brother Paulinianus to return to Palestine. He brought the island of Cyprus, where he was received with much joy by St. Epiphanius in Salamis; then in Antioch of Syria, where he saw Pauline; from there he went to Jerusalem to pass later to Egypt. When he arrived in Alexandria he became a disciple of the famous blind Didymus, who was already venerated by one of the most celebrated doctors of the Church. By fleeing the answers and disputes of the Origenists, he returned to his sweet retreat from Bethlehem, where Santa Paula and his daughter Saint Eustochius had already arrived. Santa Paula built two large monasteries, one for men, where St. Jerome retired, and another for women, divided into three communities.
Our Saint was entrusted with the spiritual direction of the two houses, and he dispatched his brother Paulinianus to sell what was left of the inheritance of his parents. He used the price to increase the number of cells in his monastery to accommodate more pilgrims, especially religious who came from all over the world to visit the Holy Land. But these exercises of virtue and charity in no way distracted him from the study to which God had specially called him. Having already enriched the Church with many works on the Old and New Testaments, as well as on different moral issues, he undertook to explain the epistle of St. Paul to Philemon, the Galatians, and the Ephesians. While working day and night to instruct and edify the faithful with their doctrinal works, he did not neglect to refute the errors of heretics. He wrote two books of Virginity against Jovinianus. His accusations accused him that by defending the truth he had given in the opposite extreme; and published an apology of his work, which served at the same time of defense and explanation. Shortly after this apology came to light, he published his catalog of ecclesiastical writers. Having come on a pilgrimage to Jerusalem in the year 393, Alipius, Bishop of Tagaste, wanted to see St. Jerome, whose reputation had spread all over Africa. He grew his estimation and his concept with the presence and the treatment of that great man. What Alipius referred to him from the merits and talents of St. Augustine was enough to profess to him that inclination and superior concept which was the foundation of the close friendship which united the two saints afterwards, so useful for the whole Church.
Towards then great progress Origenism in all the East; but he found in St. Jerome a formidable defender of truth. Although Rufinus and John, bishop of Jerusalem, wanted to disguise their errors with appearances of zeal and virtue, St. Jerome removed their mask and discovered in them the follies of Origen. The Bishop wanted to avenge himself; chased him to unfolded flags; threatened him with excommunication; forbidden him to enter the Holy Sepulcher, and would have banished him, had he not obstructed the authority of St. Paula, to whom our Holy One had complained lovingly that by his intercession he had taken away the glory of exile in defense of the truth . It is truly a wonder that a man buried in solitude, consumed with illness, exhausted by the rigors of fasting, vigils and penances, could suffice to give a record of so many and so painful occupations in which his zeal for the Church and his a great reputation I was striving for every day. His comments on Sacred Scripture; his versions of the sacred Books which the Church later adopted; his dogmatic treatises against heretics, singularly against Origenists and Pelagians; their single epistles, each worth a whole book, containing the purest dogma and the healthiest moral of the Christian religion, were more than sufficient to absorb all the time of the most extended life. Collecting more and more every day his reputation, he was consulted of all the provinces of the universe; all ran to him as the oracle of Christendom, and was generally sought as one of the wisest and most holy doctors of the Church. The people of the highest birth sent their children, and those who came on a pilgrimage to the Holy Land had the visit of St. Jerome in Bethlehem in the number of their principal devotions.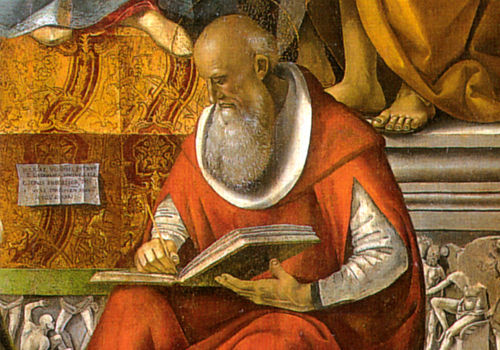 St. Jerome, Doctor of The Church
Among all his occupations the principal one was the study of Sacred Scripture. None knew better than St. Augustine the merit of this work and the important service he did with the Church. He wrote his opinion, and exhorted him to continue a work of such importance. He translated from the Hebrew into Latin all the books of the Old Testament; and the books of Judith and Tobiah translated them from the Chaldean. At the request of Pope St. Damasus he had corrected the Latin Psalter of the old italic version, on the edition of the Seventy by St. Lucian. He also corrected the New Testament on the Greek version, and finally published the same Greek version of the Seventy as corrected by his hand. No less admirable than his versions are his commentaries on Sacred Scripture; so that the Church rightly says in the office of the day, that God chose him to explain the Holy Scripture. Not having approved St. Augustine, the style, a little more pungent than just, used by our Saint in his impugnation against the errors of the Rufino originator, naively wrote his feelings. The answer was also a bit vivid; but the profound humility of the two Saints soon ended the slight opposition of opinions, and the effect of that fleeting discord was to renew between the two more closely the friendship, which never suffered after the slightest alteration in all life.
Pelagius and his disciple Celestine left Rome, and retired, the first to Africa, and the second to Palestine, where both began to sow their errors. The first that had the honor of writing against that heresy in his epistle to Cresifon was St. Jerome, and in 415 he composed a great treatise in the form of a dialogue, in which he refuted the errors of Pelagius. This Heresiarch felt so much the mortal blows that St. Jerome unloaded against his heresy in that work, that although he was not named in it, he determined to remove his mask and not to keep any more measures with the Saint. He avenged himself as a heretic. Secretly favored by Bishop Juan, who always preserved in his heart the leaven of the ancient hatred which he had professed to St. Jerome, Pelagius communicated his fury to a band of outlaws, who threw him into Bethlehem on the two monasteries which were at the direction of our Saint. They committed in them how many excesses you can imagine; plundered the two houses, and slaughtered many people of either sex. A deacon was understood in that death, and, desolating it all by fire and blood, St. Jerome escaped that danger by a miracle. Bishop John survived for a short time in excesses in which he had had some part; but Praylus, his successor, behaved very differently with our Saint, whose virtue and merit was well known; but St. Jerome enjoyed little of this stillness. There were days that visibly experienced the decay of his forces consumed of diseases and penances whose rigor did not remitted until the death. He saw her come with that tranquility and with that joy, whose taste is reserved only to virtue in that last hour. Having received with extraordinary fervor all the Sacraments, full of days and merits, he gave his soul to the Creator on September 30, 420, almost ninety years of his age, having spent about forty in his solitary retreat.
The whole Church felt the loss of that great man who had enriched her with so many wise works, and had built it up with so many great examples. The body of St. Jerome, who at his death was scarcely more than a skeleton, was buried in the grotto of his monastery in Bethlehem, and then transferred to the church of St. Mary Major in Rome next to the manger of the Savior, where he erected an altar in honor of the Saint; but his head is worshiped in the magnificent church of Cluny. The Church recognizes him by one of his four principal doctors, St. Gregory the Pope, St. Ambrose, St. Augustine and St. Jerome, whose worship has spread in Spain more than elsewhere because of the religious order which until today is honored with his name and dedicated principally to solitude and retreat to the heavenly exercise of divine praise, he honors both Religion and the Church, promoting with devotion and magnificence the divine worship in the performance of his angelic institute.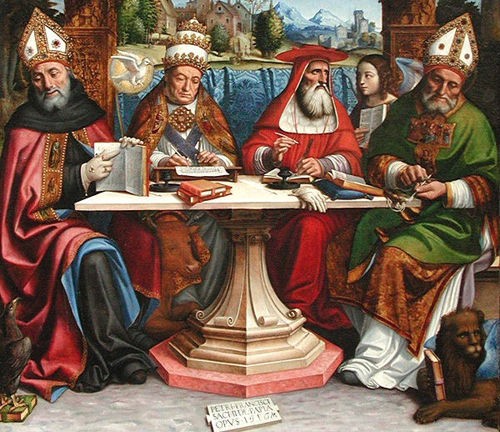 St. Augustine, St. Gregory, St. Jerome and St. Ambrose, The Four Great Saints Doctors of the Church
Purposes:
Do not say already that it costs a lot to be holy. This cantinela so common among the imperfect and among the worldly is good proof of the little that loves God, and does little mercy to those who use this language. The difficulties that appear in the service of God are not in the same service, but in the hearts of those who vainly flatter themselves that they want to live. To a sick man without strength and without spirit; to a man exhausted and consumed with a fever, the smallest burden is represented enormous weight, at the same time as a healthy and vigorous man seems the lightest thing. The same patient who can not take two steps without suffocating, in healthy health walks a league on foot without the slightest fatigue. Take advantage of these practical reflections. Love God, and everything will be sweet, easy and gentle in your service. Love God, and all the difficulties of your apprehension on the way to salvation will vanish. But if the maxims of the Gospel seem to you too bitter and too hard, be sure that you do not love God. Unceasingly pray for this love: Jesus Christ came to light this divine fire on earth, and wants nothing else but to let the world open to Him. Blame for you will be if it is dull in your heart.
Lea este artículo en Español:
San Jerónimo, Doctor de la Iglesia (30 de septiembre)