ENGLISH:
Is Saturday or Sunday the Holy Day?
By Bro. Peter Dimond
Why true Christians (i.e., Catholics) dedicate Sunday specifically to God, rather than Saturday
Refuting Seventh-Day Adventists and Seventh-Day Baptists from the Bible
Exodus 20:8-11- "Remember the sabbath day, to keep it holy. Six days you shall labor and do all your work, but the seventh day is a sabbath of the Lord your God; in it you shall not do any work, you or your son or your daughter, your male or your female servant or your cattle or your sojourner who stays with you. For in six days the Lord made the heavens and the earth, the sea and all that is in them, and rested on the seventh day; therefore the LORD blessed the sabbath day and made it holy."
In Exodus 20, we find the commandment to keep holy the Sabbath. In the Old Testament, Sabbath meant "rest" or "cessation" on the seventh day of the Jewish week – Saturday. A sizable number of Protestants argue that people are still bound by the commandment to set Saturday apart for God. They believe that Catholics break this commandment by recognizing, in accordance with the Tradition of the Church and the teaching of the New Testament, that the prerogatives of the Sabbath have been transferred to Sunday in the New Covenant. The following considerations should show any sincere person why Seventh-Day Adventists and Seventh-Day Baptists are wrong. God Himself, through the Church He established, transferred the prerogatives of the Sabbath to Sunday, in honor of the day on which Jesus rose again.
THE COMMANDMENT TO KEEP HOLY THE SABBATH IS DIFFERENT IN NATURE FROM THE OTHER COMMANDMENTS
Of all the 10 commandments,
the one to keep holy the Sabbath is different in nature from the rest
. This is a very important point. It's different because it's the only one of the Ten Commandments that pertains to the ceremonial, not the natural law. For instance, man knows in his heart that he should not murder, that he should not steal, etc. But the natural law itself doesn't teach him that he must worship God on a particular day as opposed to another day. That must come from external revelation and precept.
In fact, keeping holy the Sabbath or Seventh Day only started after the Exodus. It wasn't done before that or from the very beginning. It's part of the ceremonial, not the natural law. Since it's a commandment of
the ceremonial law
, not the natural law, God can change the day on which He is to be specifically honored. Protestants who contend that the Saturday Sabbath law remains in force do not follow other aspects of the Old Testament ceremonial law. They don't consider circumcision or ritual sacrifices to be binding anymore, but they consider the ceremonial Sabbath law to be binding. This is both unscriptural and illogical.
Just as circumcision, the ritual sacrifices, and other parts of the ceremonial law have ceased with the coming of Christ, the ceremonial requirement to set Saturday apart for God has passed away. It has been replaced by God and His Church with the requirement to specifically honor Sunday.
THE APOSTLES AND THE EARLY CHURCH CELEBRATED SUNDAY, NOT SATURDAY
The Apostles clearly honored Sunday, not Saturday. We read that they met for the Eucharist and the breaking of bread on the first day of the week, Sunday, the day of the Lord's Resurrection.
Acts 20:7- And

upon the first day of the week, when the disciples came together to break bread

, Paul preached unto them, ready to depart on the morrow; and continued his speech until midnight."
We see that the Christians came together to worship on Sunday. This day was set apart by the Apostles.
1 Corinthians 16:1-2- "Now concerning the collections that are made for the saints, as I have given order to the churches of Galatia, so do ye also.

On the first day of the week

let every one of you put apart with himself, laying up what it shall well please him; that when I come, the collections be not then to be made."
This next verse is particularly important.
Colossians 2:16-17- "

Let no man therefore judge you in meat, or in drink, or in respect of an holyday, or of the new moon, or of the sabbath days

: Which are a shadow of things to come; but the body is of Christ."
Here we see St. Paul specifically teaching that the festival and ceremonial laws (including the observance of the Sabbath!) pertained to the Old Testament period and are no longer binding after the coming of Christ. How clear does it have to be?
GOD GAVE THE CHURCH THE AUTHORITY TO TRANSFER THE SABBATH TO SUNDAY IN HONOR OF HIS RESURRECTION
Matthew 16:18-19- "And I say also unto thee, That thou art Peter, and upon this rock I will build my church; and the gates of hell shall not prevail against it. And I will give unto thee the keys of the kingdom of heaven: and whatsoever thou shalt bind on earth shall be bound in heaven: and whatsoever thou shalt loose on earth shall be loosed in heaven."
Matthew 18:17-18- "And if he shall neglect to hear them, tell it unto the church: but if he neglect to hear the church, let him be unto thee as an heathen man and a publican. Verily I say unto you, Whatsoever ye shall bind on earth shall be bound in heaven: and whatsoever ye shall loose on earth shall be loosed in heaven."
That's why the early Christians met on Sunday (the Lord's Day) to celebrate the Eucharist. That's why the most ancient fathers, such as St. Ignatius of Antioch writing about 110 A.D., recognized that Sunday was the day, not Saturday.
St. Ignatius of Antioch , Epistle to the Magnesians, no. 9, 110 A.D.: "If then they who walked in ancient customs came to a new hope,

no longer living for the Sabbath, but for the Lord's Day

, on which also our life sprang up through him and His death – though some deny Him – and by this mystery we received faith, and for this reason also we suffer…"
This is a clear proof that Seventh-Day Adventists and Seventh-Day Baptists are following a man-made perversion of Scripture which was foreign not only to the Apostles but to the most ancient Christians. Many other fathers could be quoted.
THERE'S MORE: GOD'S DAY OF REST IS CONNECTED WITH HIS CREATION;
HE RESTS AFTER HIS WORK OF CREATION IS FINISHED
THE RESURRECTION SIGNIFIES THE COMPLETION OF THE NEW CREATION,
AND THUS IT MARKS HIS NEW DAY OF REST
Genesis 2:1-2- "So the heavens and the earth were finished, and all the furniture of them. And on the seventh day God ended his work which he had made: and he rested on the seventh day from all his work which he had done."
We read that God's rest is connected with His completion of work. God finished His work, and then He rested on the seventh day. But the entire creation was ruptured by the sin of Adam. That's why Romans 8 teaches that all of creation was waiting in expectation for the Redemption of Christ. His Redemption would repair the creation that had been ruptured.
Romans 8:22-23- "For we know that

the whole creation groaneth and travaileth in pain together until now

. And not only they, but ourselves also, which have the firstfruits of the Spirit, even we ourselves groan within ourselves,

waiting for the adoption, to wit, the redemption

of our body."
Christ's Redemption is, therefore, a new creation. That's why we read:
2 Corinthians 5:17- "Therefore if any man be in Christ, he is a new creature: old things are passed away; behold, all things are become new."
Hebrews 9:11-12- "But Christ, being come an high priest of the good things to come, by a greater and more perfect tabernacle not made with hand, that is, not of this creation: Neither by the blood of goats, or of calves, but by his own blood, entered once into the holies, having obtained eternal redemption."
Christ's new work of creation – of repairing the creation that had been ruptured by Adam – was accomplished on the Cross and it culminated with His Resurrection. That's why we find the interesting subtle identification of Jesus with the gardener. When Mary Magdalene saw the risen Lord on the day of His Resurrection, she mistook Him for the gardener. This true event was also meant to indicate that Jesus was in the new garden – the restored Garden of Eden (paradise) which had been previously forfeited by the sin of Adam.
John 20:15- "Jesus saith to her: Woman, why weepest thou? whom seekest thou?

She, thinking it was the gardener

, saith to him: Sir, if thou hast taken him hence, tell me where thou hast laid him, and I will take him away."
Genesis 2:8- "And the Lord God planted

a garden eastward in Eden

; and there he put the man whom he had formed."
Jesus' Redemption and Resurrection restored paradise and repaired the garden that had been corrupted; for He is the new and greater Adam.
1 Corinthians 15:45- "And so it is written, the first man Adam was made a living soul; the last Adam [Christ] was made a quickening spirit."
Romans 5:14- "Nevertheless death reigned from Adam to Moses, even over them that had not sinned after the similitude of Adam's transgression, who is the figure [type] of him that was to come [Jesus]."
Romans 5:19- "For as by one man's disobedience many were made sinners, so by the obedience of one shall many be made righteous."
Thus, it makes perfect sense that the Lord's Day (Sunday, the day of His Resurrection) – which marked the end of His new work of creation – would become the new day of rest.
ESPAÑOL:
¿Cuál es el día del Señor, sábado o domingo?
Por el Hno. Miguel Dimond

-Por qué los cristianos (es decir, los católicos) dedican el domingo específicamente a Dios, en vez del sábado
-Refutando a los adventistas del Séptimo Día y a los bautistas del Séptimo Día usando la Biblia
Éxodo 20, 8-11: "Acuérdate del sábado, para consagrarlo. Trabaja seis días, y haz en ellos todo lo que tengas que hacer, pero el día séptimo será un día de reposo para honrar al Señor tu Dios. No hagas en ese día ningún trabajo, ni tampoco tu hijo, ni tu hija, ni tu esclavo, ni tu esclava, ni tus animales, ni tampoco los extranjeros que vivan en tus ciudades. Acuérdate de que en seis días hizo el Señor los cielos y la tierra, el mar y todo lo que hay en ellos, y que descansó el séptimo día. Por eso el SEÑOR bendijo y consagró el día de reposo".
En Éxodo 20, encontramos el mandamiento de consagrar el sábado. En el Antiguo Testamento, sábado significaba "reposo" o "cesación" en el séptimo día de la semana judía – el sábado. Un número considerable de protestantes argumentan que las personas aún están obligadas por el mandamiento de dedicar el sábado para Dios. Ellos creen que los católicos quiebran este mandamiento mediante el reconocimiento – de conformidad con la Tradición de la Iglesia y la enseñanza del Nuevo Testamento – de que las prerrogativas del sábado se han transferido al domingo en la Nueva Alianza. Las siguientes consideraciones deben mostrar a cualquier persona sincera el por qué los adventistas del Séptimo Día y los bautistas del Séptimo Día están equivocados. Dios mismo, a través de la Iglesia que Él instituyó, transfirió las prerrogativas del sábado para el domingo, en honor del día en que Jesús resucitó.
EL MANDAMIENTO DE CONSAGRAR EL SÁBADO ES DISTINTO EN SU NATURALEZA DE LOS DEMÁS MANDAMIENTOS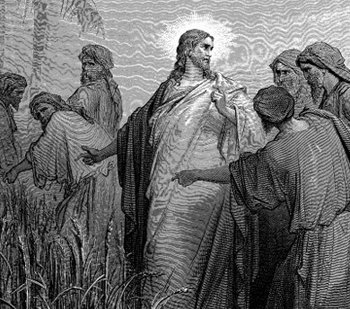 De todos los diez mandamientos,
el de santificar el sábado es distinto en su naturaleza a los demás
. Este es un punto muy importante. Es diferente porque es el único de los diez mandamientos que se refiere a lo ceremonial, no a la ley natural. Por ejemplo, el hombre sabe en su corazón que él no debe asesinar, que no debe robar, etc. Pero la misma ley natural no le enseña que él debe adorar a Dios en un día en particular, en vez de otro día. Eso debe venir de la revelación externa y el precepto externo.
De hecho, el santificar el sábado o el séptimo día no comenzó hasta después del Éxodo. No se hizo antes ni desde el principio. Ello forma parte de la ceremonia, no de la ley natural. Puesto que es un mandamiento de
la ley ceremonial
, y no de la ley natural, Dios puede cambiar el día en el cual Él será honrado específicamente. Por supuesto, los protestantes que sostienen que la ley del sábado santo aún permanece vigente, no siguen los demás aspectos de la ley ceremonial del Antiguo Testamento. Ellos no consideran que sea obligatorio la circuncisión o los sacrificios rituales, pero sí observan la ley del sábado ceremonial. Esto no es ni bíblico ni lógico.
Así como la circuncisión, los sacrificios rituales, y otras partes de la ley ceremonial han terminado con la venida de Cristo, de la misma manera se acabó la obligación de realizar una ceremonia para Dios en sábado. Dios y su Iglesia han sustituido el deber de honrarlo ahora específicamente en el domingo.
LOS APÓSTOLES Y LA IGLESIA PRIMITIVA CELEBRABAN EL DOMINGO, NO EL SÁBADO
Los Apóstoles claramente consagraban el domingo y no el sábado. Leemos que se reunían para la Eucaristía, para partir el pan, en el primer día de la semana – el domingo – que es día de la Resurrección del Señor.
Hechos 20, 7: "Y

el primer día de la semana, reuniéndose los discípulos para partir el pan

, Pablo les predicaba; y habiendo de partir al día siguiente, alargó su discurso hasta la media noche".
Vemos que los cristianos se reunían para dar culto los domingos. Este día fue consagrado por los Apóstoles.
1 Corintios 16, 1-2: "En cuanto a la ofrenda para los santos, haced vosotros también de la manera que ordené en las iglesias de Galacia.

Cada primer día de la semana

cada uno de vosotros ponga aparte algo, atesorándolo, conforme Dios le haya prosperado; para que cuando yo llegue, no se recojan entonces ofrendas".
A continuación un versículo muy importante.
Colosenses 2, 16-17: "

Por tanto, nadie os juzgue en comida o en bebida, o respecto a días de fiesta o de luna nueva, o de sábados

; que son la sombra de lo por venir; mas el cuerpo es de Cristo".
Aquí vemos a San Pablo enseñar específicamente que las leyes de fiestas y ceremonias (¡incluyendo la observancia del sábado!) pertenecen al período del Antiguo Testamento y que ya no son obligatorias después de la venida de Cristo. ¿Qué tan claro tiene que ser?
DIOS LE DIO A LA IGLESIA LA AUTORIDAD PARA TRANSFERIR EL SÁBADO AL DOMINGO EN HONOR DE SU RESURRECCIÓN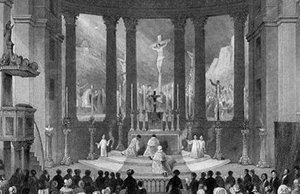 Mateo 16, 18-19: "Y yo también te digo que tú eres Pedro, y sobre esta piedra edificaré mi iglesia, y las puertas del infierno no prevalecerán contra ella. Y a ti te daré las llaves del reino de los cielos; y todo lo que atares en la tierra será atado en el cielo; y todo lo que desatares en la tierra será desatado en el cielo".
Mateo 18, 17-18: "Y si no los oyere a ellos, dilo a la iglesia, y si no oyere a la iglesia, tenle por gentil y publicano. De cierto os digo: Todo lo que atéis en la tierra, será atado en el cielo; y todo lo que desatéis en la tierra, será desatado en el cielo".
Es por eso que los primeros cristianos se reunían el domingo (el día del Señor) para celebrar la Eucaristía. Los padres más antiguos como San Ignacio de Antioquía, escribiendo alrededor de 110 d.C., reconoció que el domingo era el día del Señor, no el sábado.
San Ignacio de Antioquía, carta o epístola a los magnesianos, no. 9, 110 d.C.: "Así pues, si los que habían andado en prácticas antiguas alcanzaron una nueva esperanza,

sin observar ya los sábados, sino moldeando sus vidas según el día del Señor

, en el cual nuestra vida ha brotado por medio de Él y por medio de su muerte que algunos niegan —un misterio por el cual nosotros obtuvimos la fe, y por esta causa resistimos…".
Esta es una clarísima prueba de que los adventistas del Séptimo Día y los bautistas del Séptimo Día están siguiendo una perversión de la Escritura, inventada por hombres, cuyo error era totalmente ajeno no sólo a los Apóstoles, sino a los cristianos primitivos. Se podrían citar muchos otros padres.
HAY MÁS: El DÍA DE REPOSO DE DIOS ESTÁ CONECTADO CON SU CREACIÓN;
ÉL REPOSÓ DESPUÉS QUE SU OBRA DE LA CREACIÓN HABÍA TERMINADO
LA RESURRECCIÓN SIGNIFICA LA FINALIZACIÓN DE LA NUEVA CREACIÓN,
POR LO QUE ELLO MARCA SU NUEVO DÍA DE REPOSO
Génesis 2, 1-2: "Y fueron acabados los cielos y la tierra, y todo el ejército de ellos. Y acabó Dios en el día séptimo su obra que hizo, y reposó el día séptimo de toda su obra que había hecho".
Leemos que el reposo de Dios está conectado con la finalización de su trabajo. Dios terminó su obra, y luego reposó en el séptimo día. Pero toda la creación fue corrompida por el pecado de Adán. Es por eso que en Romanos 8 se enseña que toda la creación esperaba la Redención de Cristo. Su redención repararía la creación dañada.
Romanos 8, 22-23: "Porque

sabemos que toda la creación gime a una, y está en dolores de parto hasta ahora

; y no sólo ella, sino que también nosotros que tenemos las primicias del Espíritu, nosotros también gemimos dentro de nosotros mismos,

esperando la adopción, esto es, la redención

de nuestro cuerpo".
La redención de Cristo es, por lo tanto, una nueva creación. Por eso leemos:
2 Corintios 5, 17: "De modo que si alguno está en Cristo, nueva criatura es; las cosas viejas pasaron; he aquí todas son hechas nuevas".
Hebreos 9, 11-12: "Mas estando ya presente Cristo, Sumo Sacerdote de los bienes que habían de venir, por el más amplio y más perfecto tabernáculo, no hecho de manos, es decir, no de esta creación; y no por sangre de machos cabríos ni de becerros, sino por su propia sangre, entró una sola vez en el lugar santísimo, habiendo obtenido eterna redención".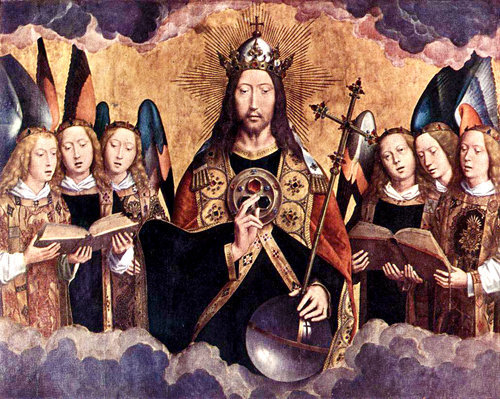 La nueva obra de Cristo en la creación, es decir, la reparación de la creación que fue destruida por Adán, se realizó en la cruz y culminó con su Resurrección. No es de extrañar que Jesús fuese identificado sutilmente con el jardinero, pues, cuando María Magdalena vio al Señor resucitado en el día de su Resurrección, lo confundió con el jardinero. Este verdadero acontecimiento también tenía por objetivo indicarnos que Jesús estaba en el nuevo jardín – el restaurado Jardín del Edén (el paraíso) que previamente había sido perdido por el pecado de Adán.
Juan 20, 15: "Jesús le dijo: Mujer, ¿por qué lloras? ¿A quién buscas?

Ella, pensando que él era el jardinero

, le dijo: Señor, si tú lo has llevado, dime dónde lo has puesto, y yo lo llevaré".
Génesis 2, 8: "Dios el Señor plantó

un jardín al oriente del Edén

, y allí puso al hombre que había formado".
La redención y resurrección de Jesús restauraron el paraíso y repararon el jardín que había sido dañado, porque Él es el nuevo Adán mayor.
1 Corintios 15, 45: "Y así está escrito: El primer hombre Adán fue hecho un alma viviente; el postrer Adán [Cristo], un espíritu vivificante".
Romanos 5, 14: "No obstante, reinó la muerte desde Adán hasta Moisés, aun en los que no pecaron a la manera de la transgresión de Adán; el cual es figura [tipo] del que había de venir [Jesús]".
Romanos 5, 19: "Porque como por la desobediencia de un hombre muchos fueron constituidos pecadores, así también por la obediencia de uno, muchos serán constituidos justos".
Por lo tanto, tiene sentido perfecto que el día del Señor (el domingo, el día de su Resurrección) – que marcó el final de su nuevo trabajo de la creación – se convirtiera en el nuevo día de reposo.