ESPAÑOL:
San Matías Apóstol (24 de febrero)
San Matías, que fue elegido en lugar del traidor Judas, fue de la tribu de Judá, y nació en Belén, de familia ilustre, no menos dis­tinguida por su calidad y por su riqueza que por el celo que profe­saba a la religión de Moisés.
Lo criaron sus padres con gran cuidado, instruyéndole en las bue­nas costumbres y en la ciencia de las Escrituras y de la religión. La inocencia de vida con que pasó la juventud fue una bella disposición para que se aplicase a oír la doctrina de Cristo, luego que se comenzó a manifestar después de su sagrado bautismo. Tuvo la dicha de se­guirle en compañía de los Apóstoles desde el principio de su predi­cación hasta su gloriosa ascensión a los Cielos, y fue uno de los se­tenta y dos discípulos.
Judas Iscariote, uno de los doce apóstoles que Jesucristo con particular amor había escogido para favorecidos y confidentes suyos, hizo traición a su Maestro, y con torpísima ingratitud le vendió a sus enemigos. De apóstol pasó a ser apóstata; y añadiendo la desesperación a la perfi­dia, él mismo vengó su delito, y acabó su desdichada vida con muerte horrible y vergonzosa.
Habiendo resucitado Cristo, quiso dar pruebas sensibles de la ver­dad de su resurrección por espacio de cuarenta días, y también ins­truir todavía más particularmente a sus Apóstoles y a sus amados discípulos. Se les aparecía de cuando en cuando; conversaba familiar­mente con ellos, y con maravillosa bondad les explicaba los miste­rios más secretos de la religión, descubriéndoles todo el plan y toda la economía de la Santa Iglesia.
Hacía siempre delante de ellos algún milagro, para que advirtie­sen que no se había disminuido con la muerte su poder. No eran con­tinuas ni muy frecuentes sus apariciones, y aun algunas veces de­jaba pasar muchos días sin manifestarse, para irlos poco a poco desacostumbrando y que se hiciesen a vivir sin el consuelo de su pre­sencia corporal.
En todas estas visitas los instruía en lo que debían hacer para cum­plir con las obligaciones de los cargos y empleos a que los destinaba en su Iglesia. En particular les enseñaba el modo de administrar los Sacramentos, de gobernar a los pueblos y de portarse entre sí unos con otros. Les declaraba una multitud de cosas, que en otras ocasio­nes no había hecho más que apuntar, reservando su individual y clara explicación para aquel tiempo.
En fin, estando ya para volverse a su Eterno Padre, entre otras muchas instrucciones les mandó que, después de su Ascensión a los Cielos, ellos se retirasen juntos a Jerusalén, sin salir de allí hasta nueva orden, y que esperasen el cumplimiento de la promesa que el mismo Padre Eterno les había hecho por su boca de que les comunicaría el mayor don de todos los dones, enviándoles al Espíritu Santo.
Luego que el Salvador subió a los Cielos desde el monte de las Olivas en presencia de todos ellos, los Apóstoles se volvieron a Jerusalén con la Santísima Virgen, y se encerraron todos en la casa que habían escogi­do para su retiro. Quedó santifica­da la casa con las continuas oraciones que hacían todos con un mismo espí­ritu, estando al fren­te de aquella apos­tólica congregación María Madre de Je­sús, con algunos parientes cercanos su­yos, que, según la costumbre de los ju­díos, se llamaban hermanos; aña­diéndose también algunas devotas mujeres que ordi­nariamente acompañaban a la Vir­gen. La pieza más respetable y aún más santa de aque­lla dichosa casa era el cenáculo, que fue la primera Iglesia de la Religión cristiana. Vueltos, pues, del monte Olívete, subieron todos al Cenáculo, por ser el lugar donde celebraban sus juntas, y en una de ellas resolvieron llenar la plaza vacante en el Colegio Apostólico por la apostasía y funesta muerte del infelicísimo Judas Iscariote.
Aún no habían recibido visiblemente al Espíritu Santo; pero
Pedro, como Príncipe de los Apóstoles, Vicario de Jesucristo y visible Cabeza de su Iglesia
, obraba ya inspirado del mismo Espíritu Divino; y cómo a quien tocaba regir todas las cosas, y dar providencia en todo, se levantó en medio de los discípulos, en número de casi ciento y veinte, que ya tenían la costumbre de llamarse
hermanos
entre sí, por la es­trechísima y santísima unión de la caridad fraternal que los enla­zaba , y les habló de esta manera:
Venerables varones y hermanos míos: ya llegó el tiempo de cum­plirse el oráculo que el Espíritu Santo pronunció en la Escritura por boca del Profeta Rey, tocante a Judas, que vendió a su Maestro y nuestro, y no tuvo vergüenza de servir de guía a los que le prendie­ron, y le quitaron la vida como a un malhechor. Bien sabéis que era apóstol como nosotros, llamado a las mismas funciones que nosotros; pero, con todo eso, pereció miserable y desgraciadamente. No ignoráis que después de los hurtos y de los sacrilegios que cometió en la admi­nistración de su oficio, y después de su infame traición, se ahorcó desesperado; que, cayendo en tierra boca abajo el infeliz cadáver, re­ventó por medio, arrojando las entrañas; que de esta manera entre­gó su alma al demonio, abandonando el campo que se había compra­do con el dinero que se dio por precio de su delito, después que él mismo había restituido desesperadamente este dinero. Toda Jerusalén fue testigo de este suceso, habiéndose hecho tan público que, para conservar la memoria, se dio al campo el nombre de Haceldama, que en hebreo significa tierra de homicidio y campo de sangre. Esta es aquella tierra maldita, aquella heredad de los malos que desea Da­vid se convierta en triste destierro, de manera que ninguno habite ni la cultive, y que su poseedor, maldito de Dios y de los hombres, pier­da el obispado y deje su lugar a otro. Lo perdió Judas, y es menester no tardar en colocar en él un sucesor de conocido mérito, que sea tan capaz de esta dignidad como Judas era indigno; porque el Señor quiere que esté completo el número de sus Apóstoles, y que haya en la Iglesia doce príncipes del pueblo, como ha habido hasta aquí doce cabezas en las doce tribus de Israel.
Para ejecutar, pues, cuanto antes la voluntad del Señor, es nece­sario elegir, entre los que estamos presentes, uno que, juntamente con nosotros, pueda dar testimonio cierto de la resurrección de Jesús, y que, para ser mejor creído, sea uno de los que siempre le acompañaron en sus viajes, desde que fue bautizado por Juan hasta el día en que nos dejó para subir al Cielo, que hubiese oído sus instruccio­nes, y que hubiese sido testigo de sus milagros.
Se deliberó en la junta sobre quién había de ser el elegido; y, ha­biendo hecho oración a Dios, pasaron todos a votar. Se repartieron los votos entre dos, ambos sujetos muy recomendables entre los dis­cípulos: el primero era José, llamado Bársabas, que por su particu­lar virtud había merecido el nombre de Justo; el segundo era Matías ; pero no habiendo más que una silla vacante, y no sabiendo a cuál de los dos habían de preferir, porque ambos eran muy dignos y muy beneméritos, volvieron a orar con nuevo fervor, haciendo a Dios esta oración:
Vos, Señor, que conocéis, los corazones de los hom­bres, dadnos a entender a cuál de estos dos habéis elegido para que entre en lugar del traidor Judas, sucediéndole en el ministerio y en el apostolado, de que él abusó para irse al infierno que merecía.
Oyó el Señor benignamente la oración de los fieles y, según la cos­tumbre de los judíos, se echaron suertes entre los dos concurrentes, poniéndoles delante una caja o un vaso cubierto con su tapa, donde estaban las cédulas, y la mano invisible de Dios condujo la suerte de manera que cayó sobre Matías y, agregado a los otros once após­toles, completó con ellos el número de doce.
Llevado ya a la dignidad del apóstol, recibió con ellos la plenitud del Espíritu Santo en el día de Pentecostés; y como era ya tan esti­mado de toda la nación, así por la integridad de sus costumbres como por la nobleza de su sangre, hizo maravilloso fruto con los celestiales dones que había recibido, convirtiendo a la fe gran número de judíos, y haciendo muchos milagros.
En el repartimiento del mundo, que hicieron los Apóstoles para conducir la luz de la fe y del Evangelio a todas las naciones, tocó a San Matías el reino de Judea. El abrasado celo que desde luego mostró por la conversión de sus mismos nacionales le obligó a padecer muchos trabajos, y a exponerse a grandes peligros y sufrir gran­des persecuciones y, finalmente, a coronar su santa vida con un glo­rioso martirio.
Corrió casi todas las provincias de Judea anunciando a Jesucristo, confundiendo a los enemigos de la fe y haciendo en todas partes con­versiones y conquistas. Dice San Clemente Alejandrino ser constante tradición que San Matías fue con particularidad gran predicador de la penitencia, la que enseñaba no menos con el ejemplo de su pe­nitentísima vida que con los discursos que había aprendido de su divino Maestro. Decía que era menester mortificarse incesantemente, combatir contra la carne, tratarse con rigor, hacerse eterna violen­cia, reprimiendo los desordenados deseos de la sensualidad, llevan­do a cuestas la cruz y arreglando la vida por las máximas del Evan­gelio. Añadía que esta mortificación exterior, aunque tan necesaria, no basta si no está acompañada de una fe viva, de una esperanza superior a toda duda y de una caridad ardiente. Concluía qué nin­guna persona, de cualquier edad o condición que fuese, estaba dis­pensada de esta ley, y que no había otra teología moral. Hizo San Matías gran fruto en toda Judea, teatro de sus trabajos, espacioso campo de su glorioso apostolado.
Muchos años había que este gran apóstol no respiraba más que la gloria de Jesucristo y la salvación de su nación, corriendo por toda ella, predicando con valor y con asombroso celo, confundiendo a los judíos y demostrándoles con testimonios irrefragables de la Sagrada Escritura que Jesucristo, a quien ellos habían crucificado y había resucitado al tercero día, era el Mesías prometido, Hijo de Dios, y en todo igual a su Padre.
No pudiendo sufrir los jefes del pueblo judaico verse tantas veces confundidos, irritados también, por otra parte, de la multitud de conversiones que hacía y de los milagros que obraba, resolvieron acabar con él. Refiere
el Libro de los condenados,
esto es, el libro donde se tomaba la razón de todos los que habían sido ajusticiados en Judea desde la resurrección del Señor, por haber violado la ley de Moisés, como San Esteban, los dos Santiagos y San Matías; re­fiere dicho libro que nuestro Santo fue preso por orden del pontífice Ananías y que habiendo confesado a Jesucristo en concilio pleno, demostrando su divinidad, y convenciendo que había sido Redentor del género humano con lugares claros de la Escritura y con hechos innegables a que no tuvieron qué responder, fue declarado enemigo de la Ley, y como tal sentenciado a ser apedreado. Llegado el Santo al lugar del suplicio, se hincó de rodillas y, levantando los ojos y las manos al Cielo, dio gracias al Señor por la merced que le hacía en morir por defender su santa religión; hizo oración por todos los presentes y por toda su nación, la que, concluida, fue cubierto de una espesa lluvia de piedras. Añade el mismo libro que no pudiendo sufrir este género de suplicio los romanos que gobernaban la pro­vincia contuvieron el furor de los que le apedreaban, y hallando al Santo medio muerto, por despenarle, acabándole de matar le cor­taron la cabeza. Sucedió el martirio de San Matías el día 24 de fe­brero, aunque no se sabe precisamente en qué año.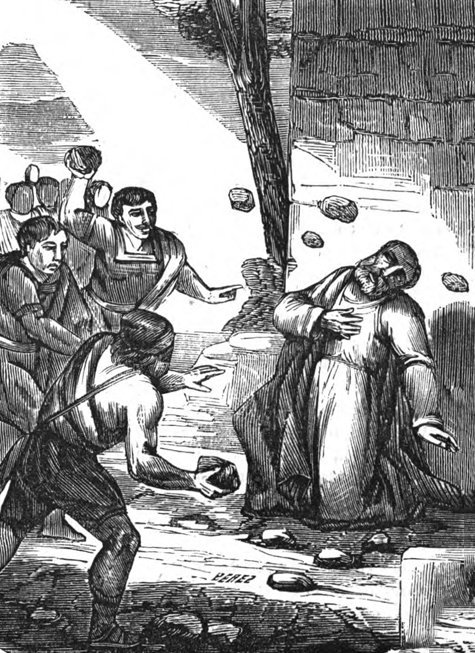 Su sagrado cuerpo, según la más constante tradición, de la que no tenemos motivo sólido, o por lo menos convincente, para separar­nos, fue traído a Roma por Santa Elena, madre de Constantino, y hasta hoy se venera en la iglesia de Santa María la Mayor, la más considerable parte de sus preciosas reliquias. Se asegura que la otra parte de ellas se la dio la misma santa emperatriz a San Agricio, arzobispo de Tréveris, quien las colocó en la iglesia que hasta hoy tiene la advocación de San Matías.
Propósitos
El Papa San Gregorio Magno y San Matías Apóstol
Parece cierto que serán
pocos los que se salven
, respecto de la espantosa multitud de los cristianos que se condenan. Pero aunque el número de los primeros fuese mucho más pequeño de lo que es, es menester –cueste lo que costare– hacer todo lo posible para ser de este número. Para este fin, toma una fuerte resolución de aplicar todos tus talentos, toda tu industria, y de no perdonar medio alguno para salir con un negocio de tan gran consecuencia. El camino que guía a la vida es estrecho. Clame, grite lo que quisiere el amor pro­pio y las pasiones; ello no hay dos caminos para la vida. Desde este punto has de resolverte a hacer todos los esfuerzos imaginables para entrar por la puerta estrecha. El camino es estrecho, es áspero, es dificultoso, y más cuando se ha de trepar por él cargado con una pesada cruz; pero es único, no hay otro en que escoger. Ni Cristo nos enseñó otro, ni fue por otro santo alguno, alma alguna de las que se salvaron. ¿Has tenido tú la dicha de encontrar acaso otro camino? Este camino es poco frecuentado; no vayas por donde va la muchedumbre; porque el ruido que hay y el polvo que se levanta impiden ver los precipicios.
ENGLISH:
St. Matthias Apostle (February 24th)
St. Matthias, who was chosen in place of the traitor Judas, was of the tribe of Judah, and was born in Bethlehem, of illustrious family, no less distinguished by his quality and wealth than by the zeal he professed to the religion of Moses. His parents raised him with great care, instructing him in the good customs and the science of the Scriptures and of religion. The innocence of life with which the youth passed was a beautiful disposition to be applied to hear the doctrine of Christ, after it began to manifest after his sacred baptism. He had the joy of following him in the company of the Apostles from the beginning of his preaching to his glorious ascension to the Heavens, and was one of the seventy-two disciples. Judas Iscariot, one of the twelve apostles whom Jesus Christ, with particular love, had chosen for his benefactors and confidants, betrayed his Master, and sold him with foolish ingratitude to his enemies. From an apostle he became apostate; And adding despair to perfidy, he himself avenged his crime, and ended his unhappy life with horrible and shameful death. Having risen Christ, he wanted to give sensible proof of the truth of his resurrection for forty days, and also to instruct even more particularly his Apostles and his beloved disciples. It appeared to them from time to time; Conversed familiarly with them, and with wonderful kindness explained to them the most secret mysteries of religion, discovering to them the whole plan and all the economy of the Holy Church.
He would always perform some miracle before them, so that they would realize that his power had not diminished with death. His apparitions were not continuous or very frequent, and even sometimes they allowed many days without manifesting himself, to make them little by little unaccustomed and to live without the consolation of their bodily presence. In all these visits he instructed them in what they should do to fulfill the obligations of the offices and jobs to which he was assigned in his Church. In particular he taught them how to administer the sacraments, to govern the peoples and to behave with one another. He told them a multitude of things, which on other occasions he had done nothing more than point, reserving his individual and clear explanation for that time.
Finally, when he was about to return to his Eternal Father, among many other instructions, he commanded them, after their Ascension to the Heavens, to withdraw together to Jerusalem, without leaving there until further notice, and to wait for the fulfillment of the A promise that the Eternal Father Himself had made through their mouths that He would communicate to them the greatest gift of all gifts by sending them to the Holy Spirit. After the Savior ascended to the Heavens from the Mount of Olives in the presence of all of them, the Apostles returned to Jerusalem with the Blessed Virgin, and they all locked themselves in the house which they had chosen for their retreat. The house was sanctified with the continuous prayers that all of them did with one spirit, being at the head of that apostolic congregation Mary Mother of Jesus, with some near relatives of his, that, according to the custom of the Jews, they were called brothers; Also adding some devout women who ordinarily accompanied the Virgin. The most respectable and even holier of this happy house was the Cenacle, which was the first Church of the Christian Religion. Then, returning from Mount Olivet, they all went up to the Upper Room, where they held their meetings, and in one of them they resolved to fill the vacant post in the Apostolic College for the apostasy and death of the most unfortunate Judas Iscariot. They had not yet visibly received the Holy Spirit; But Peter, as Prince of the Apostles, Vicar of Jesus Christ and visible Head of his Church, was already inspired by the same Divine Spirit; And how to whom it was to govern all things, and to give providence in everything, he arose among the disciples, in the number of almost a hundred and twenty, who already had the habit of being called brothers to one another, by the most holy and most holy union of The brotherly love that bound them, and spoke to them in this way:
Venerable men and my brothers: the time has come to fulfill the oracle that the Holy Spirit pronounced in the Scripture through the mouth of the Prophet King, concerning Judas, who sold his Master and ours, and was not ashamed to serve as a guide to the Who took him, and took his life as an evildoer. You know that he was an apostle like us, called to the same functions as we; But, with all that, he perished miserably and unhappily. You are aware that after the thefts and sacrileges he committed in the administration of his office, and after his infamous betrayal, he hung in despair; That, falling on the ground, the unfortunate corpse, burst through, throwing the entrails; Who thus gave his soul to the devil, leaving the field that he had bought with the money that was given for the price of his crime, after he himself had desperately returned this money. All Jerusalem witnessed this event, and it became so public that in order to preserve its memory, the name of Haceldama was given in the field, which in Hebrew means a homicide and a field of blood. This is that damned land, that inheritance of the wicked that David desires to become a sad exile, so that no one inhabits or cultivates it, and that its possessor, cursed of God and of men, loses the bishopric and leaves its place to other. Judas lost it, and it is necessary not long to place in him a successor of known merit, who is as capable of this dignity as Judas was unworthy; For the Lord wants the number of his Apostles to be complete, and that there be in the Church twelve princes of the people, as there have been twelve heads in the twelve tribes of Israel. In order to carry out the will of the Lord as soon as possible, it is necessary to choose among those present one who, together with us, can give a certain testimony of the resurrection of Jesus, and who, to be better believed, may be one of Those who always accompanied him on his travels, from the time he was baptized by John to the day he left us to ascend to Heaven, to have heard his instructions, and to have witnessed his miracles.
The meeting was deliberated on who should be chosen; And, having prayed to God, they all went to vote. The vows were divided between two, both subjects highly recommended among the disciples: the first was Joseph, called Bársabas, that by its particular virtue had deserved the name of Justo; The second was Matthias; But there being but one vacant chair, and not knowing which of the two they should prefer, for they were both very worthy and very merciful, they prayed again with renewed fervor, praying to God: "You, Lord, The hearts of men, let us understand which of these two you have chosen to enter into the place of the traitor Judas, succeeding him in the ministry and in the apostolate, that he abused to go to the hell he deserved. The Lord kindly heard the prayers of the faithful, and according to the custom of the Jews, lots were cast between the two attendants, putting before them a box or a glass covered with its lid, where were the cedulas, and the invisible hand of God drove The fate so that it fell on Matías and, added to the other eleven apostles, completed with them the number of twelve. Carried to the dignity of the apostle, he received with them the fullness of the Holy Spirit on the day of Pentecost; And as he was already so dear to the whole nation, so by the integrity of his customs as by the nobility of his blood, he wrought marvelous fruit with the heavenly gifts which he had received, turning a great number of Jews to the faith, and doing many miracles .
In the repartimiento of the world, which the Apostles did to bring the light of faith and the Gospel to all nations, St. Matthias touched the kingdom of Judea. The burning zeal that he showed for the conversion of his own nationals forced him to suffer many labors, and to expose himself to great dangers and suffer great persecutions, and finally to crown his holy life with a glorious martyrdom. He ran almost all the provinces of Judea announcing Jesus Christ, confusing the enemies of faith and making conversions and conquests everywhere. St. Clement of Alexandria is a constant tradition that Saint Matthias was a great preacher of penance, who taught no less with the example of his penitent life than with the speeches he had learned from his divine Master. He said that it was necessary to mortify oneself unceasingly, to fight against the flesh, to treat oneself with rigor, to become eternal violence, to repress the disorderly desires of sensuality, to carry the cross and to arrange life for the maxims of the Gospel. He added that this external mortification, although so necessary, is not enough if it is not accompanied by a living faith, a hope superior to all doubt and a burning charity. It concluded that no person of any age or condition was exempt from this law, and that there was no other moral theology. St. Matthias made great fruit in all Judea, the theater of his labors, the spacious field of his glorious apostolate. For many years this great apostle breathed only the glory of Jesus Christ and the salvation of his nation, running all over it, preaching courageously and with amazing zeal, confusing the Jews and showing them with irrefutable testimonies of the Sacred Scripture that Jesus Christ , Whom they had crucified and resurrected on the third day, was the promised Messiah, Son of God, and in all likeness to his Father.
The chiefs of the Jewish people could not suffer to see themselves so often confused and irritated, on the other hand, from the multitude of conversions he made and from the miracles he worked, they resolved to end him. It refers to the Book of the Damned, that is, the book where all those who had been executed in Judea since the resurrection of the Lord were raped, for having violated the law of Moses, like St. Stephen, the two Santiagos and St. Matthias ; Refers to this book that our Saint was imprisoned by order of the Pontiff Ananias and that having confessed Jesus Christ in full council, demonstrating his divinity, and convincing that he had been Redeemer of the human race with clear places of the Scripture and with undeniable facts that they did not have How to respond, was declared an enemy of the Law, and as such sentenced to be stoned. When the Holy One arrived at the place of his torment, he fell on his knees and, raising his eyes and hands to Heaven, thanked the Lord for the mercy he gave him in dying to defend his holy religion; He prayed for all present and for all his nation, which, when concluded, was covered with a heavy rain of stones. The Romans, who ruled the province, contained the same book, that the Romans who ruled the province could not endure the stench of those who stoned him, and finding the Saint half dead to plunder him and kill him, cut off his head. The martyrdom of Saint Matthias happened on February 24, although it is not known precisely in what year.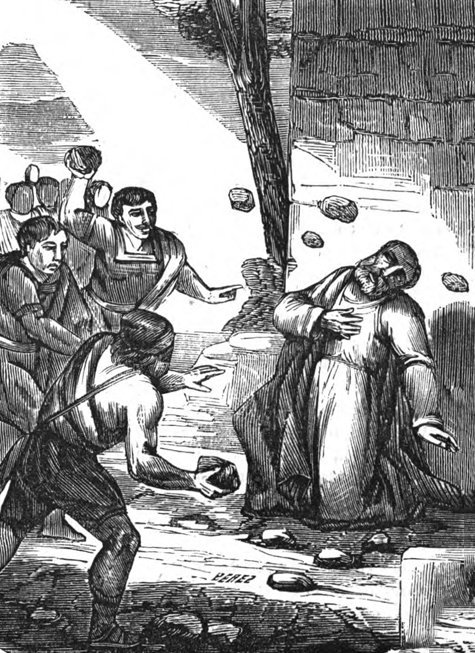 His sacred body, according to the most constant tradition, of which we have no solid, or at least convincing, motive to separate us, was brought to Rome by St. Helena, the mother of Constantine, and to this day is venerated in the church of Santa Maria The greater, the most considerable part of its precious relics. It is assured that the other part of them was given by the same holy Empress to San Agricio, archbishop of Trier, who placed them in the church that until today has the invocation of St. Matthias.
Purposes
Pope St. Gregory the Great and St. Matthias the Apostle
It seems certain that few will be spared, in regard to the dreadful multitude of Christians who are condemned. But even though the number of the former was much smaller than it is, it is necessary, whatever it may be, to do everything possible to be of this number. To this end, take a strong resolution to apply all your talents, all your industry, and not to forgive any means to go out with a business of such great consequence. The road leading to life is narrow. Cry, scream what self-love and passions want; There are no two paths to life. From this point you have to resolve yourself to make every effort imaginable to enter through the narrow door. The road is narrow, it is rough, it is difficult, and more when it is to climb by him loaded with a heavy cross; But it is unique, there is no other to choose. Neither did Christ teach us another, nor was he any other saint, any soul that was saved. Have you had the pleasure of finding another way? This road is little frequented; Do not go where the crowd goes; Because the noise there and the dust that rises prevent to see the precipices.
For further information visit: mostholyfamilymonastery.com